MUNICH ARTISTS ÜBER DIE AUSSTELLUNG "WHAT I AM LOOKING FOR!" UND DIE GALERIE FREIRAUM16

---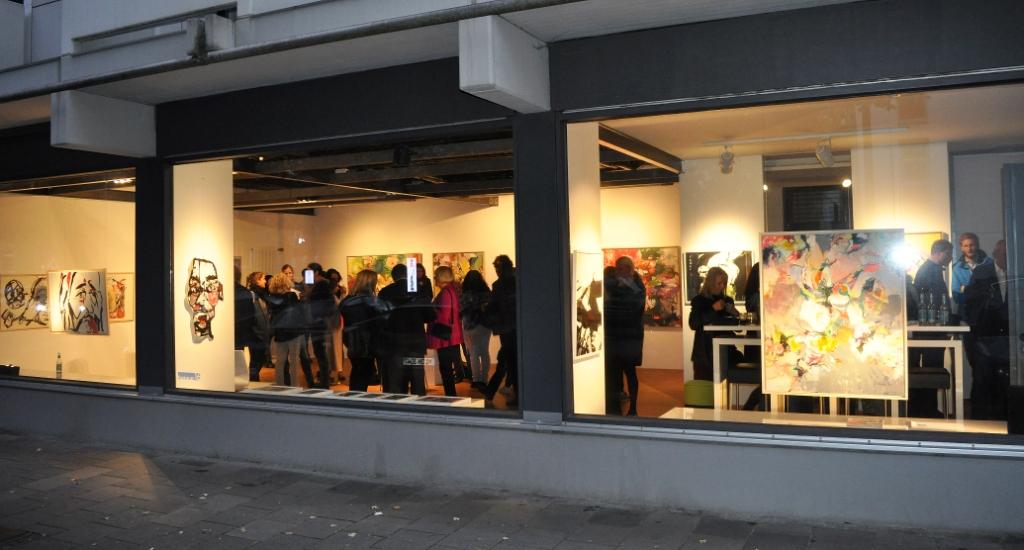 VON MUNICH ARTISTS
München


ARTIKEL VON MUNICH ARTISTS:
https://munichartists.com/2016/10/11/artsy-place-galerie-freiraum-16-giesing/

Last week, Petra Amtsberg Hoffmann opened her current exhibition at Galerie Freiraum 16 in Giesing. I promised Petra I would go to her vernissage and at 1830 on Thursday I drove over to Giesing. I parked my car and walked a few blocks to the gallery. It was empty. Looking at my phone, I realised that Petra's vernissage was the day before and I was on time but a day late.
Luckily for Munich Artists, the gallerist at Freiraum16, was at the gallery and welcomed me into her space with a smile and a look of amusement.
Galerie Freiraum 16
Angelika Baumgartner is the gallerist at Oefelestr. 13a in Munich, Germany. For many years, Angelika used the large space as a design studio but this year, she decided to make a life change which included clearing out her old office and dividing the space into a cosy office and a good sized art gallery.
As an interior designer, making this change was easy for Angelika. Her current office is nestled in a room near the entrance leaving most of the space open for displaying artwork.
As you are well aware from Munich Artists Window installations, we love large windows and Gallery Freiraum 16 has two of them that look out into the neighbourhood. Think of all the possibilities!
Over the last few years, we have visited some areas of Giesing but this was my first time venturing into a residential section for Munich Artists. In prior posts, I visited HNRX at the graffiti walls, I've been to Candidplatz for the murals under the overpass and I visited Petra Beeking's open studio.
What surprised me the most about this area of Giesing was how friendly everyone was to everyone else. Maybe it was the weather or some kind of Giesing magic but I enjoyed experiencing it. As I walked to the gallery from my car, I saw people standing at each other's windows talking and waving as people walked by their apartments. My tiny area of Sendling is waving friendly and I was pleasantly surprised to see that this area of Giesing also welcomed people with open windows and smiling faces.
Petra Amtsberg Hoffman
Petra Amtsberg Hoffmann's artwork currently covers the walls at Galerie Freiraum 16. If you don't remember Petra, she participated in our 500 Artists Say Hello and, has a large property on the East side of town that she is developing into an artsy space called Studio Riemerling. We love Petra's work but her artsy space is kind of too far away for a regular visit so Munich Artists was happy to see Petra's work over the river and under the bridge from Sendling (Where we hang out most of the time.)
After a nice chat about Petra's artwork, I asked Angelika what she hoped to create with her new gallery.
Angelika said she wanted to showcase emerging artists and have events that brought artists together. Munich Artists loved hearing this and we agreed with Angelika that Munich Artists will bring a few projects to Galerie Freiraum 16 in 2017.
We are very excited to have this opportunity and will keep you posted on Facebook and on the website as things develop.
Although Angelika is an experienced interior designer, she is still finding her groove as a gallerist and will give a shoutout if/when Galerie Freiraum 16 is looking for artists to exhibit. (Please do not take your portfolios over there no matter how good they are.)
---